Last time IP FRR on Huawei routers was introduced. Let's go on with VPN FRR today.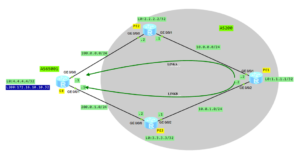 Configure IP addresses based on the topology (omitted)
Configure ISIS on PE1, PE2 and PE3.
Configure MPLS function on all PE routers and enable MPLS LDP to set up an LSP.
Configure VPN instance on all PE devices.
Configure MP-IBGP between PE routers.
Configure EBGP between CE and PE2/PE3 routers.
Configure VPN FRR policy on PE1.
Configure BFD session between PE1 and PE2.
Read More »