I wanted to use AR routers to prepare PIM SM lab but it turned out that there is a problem with cooperation between multicast source and AR router. Of course I am talking about network simulator eNSP. Finally I decided to use eNSP with S5700. So we have topology like in the last two posts: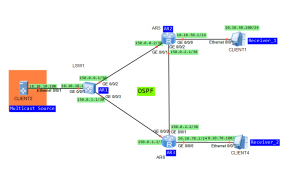 Configure VLANs, VLAN interfaces and IP addresses based on the topology (omitted).
Configure OSPF to ensure connectivity between switches (omitted).
Enable multicast on both switches.
Enable PIM SM on all interfaces.
Enable IGMP on receivers' interfaces.
Set static RP for both switches (Loopback0 of SwitchB).
Address of multicast group G: 225.1.1.1.
Address of multicast group S: 10.10.10.100.
Read More »